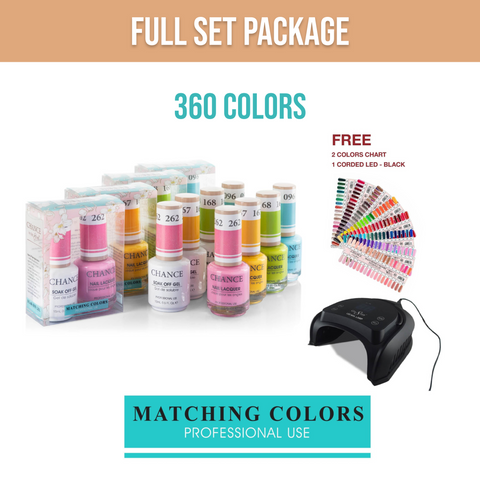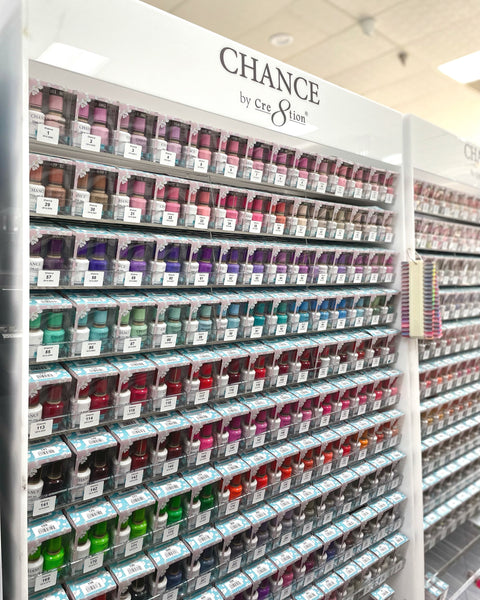 Chance by Cre8tion
Chance Matching Color Gel & Nail Lacquer Full Set - 360 Colors Collection- $5.00/each - Free 2 Sets Color Chart And 1 Corded LED Lamp - Black
$2,483.88 CAD
$2,732.27 CAD

you save $248.39 CAD
Product Details
Dip into vivid hues with "Chance Matching Color Gel & Nail Lacquer Full Set" - an ocean of 360 colors with a bright corded LED lamp and two sets of color charts for free.
Product Highlights
Unlock a kaleidoscope of color possibilities with Chance's Matching Color Gel & Nail Lacquer Full Set of 360 shades.

Indulge in luxurious nails with this budget-friendly offering at just $5.00 per piece.

Light up your beauty routine with a free Corded LED Lamp included in the package for effortless at-home application.

The free 2 Sets Color Chart lets you choose your desired shade quickly and precisely, ensuring a perfect match every time.
Specification
With a stunning palette of 360 colors, this set is a painter's dream come true, offering a spectrum of hues as vast as the universe.

The matching color gel and nail lacquer ensure that every brush stroke is a seamless masterpiece, blending in with each other like a harmonious duet.

Priced at only $5.00 per piece, each shade is a precious gem in its own right, making this collection a treasure trove of beauty.

With the bonus of two sets of color charts, this set is a map that guides you through a world of color, revealing new wonders with every page turn.

The corded LED lamp perfectly complements this set, illuminating your creations and bringing them to life like sunshine on a cloudy day.

The black packaging exudes an air of sophistication and elegance, making this set a tool for artistic expression and a statement of refined taste.
Complete The Look
With the Chance Matching Color Gel & Nail Lacquer Full Set in 360 Colors, your nails will shine like a constellation in the night sky. Complete the look with the free 2 Sets Color Chart, and illuminate your path with the Corded LED Lamp in sleek black, guiding you towards a world of endless possibilities.
Nail swatch doesn't match
The nail polishes are GREAT, BUT the nail swatches that they sent do not match the polishes. I contacted the company Cre8tion and apparently they know but haven't updated the swatch. Now we have to re swatch every polish. All 360! Treasure 4 nails is wonderful didn't have issues with them.