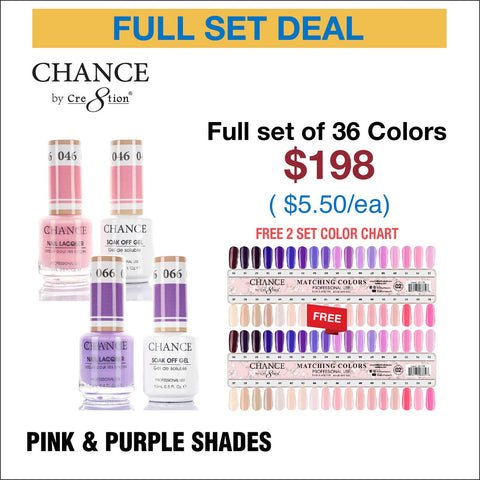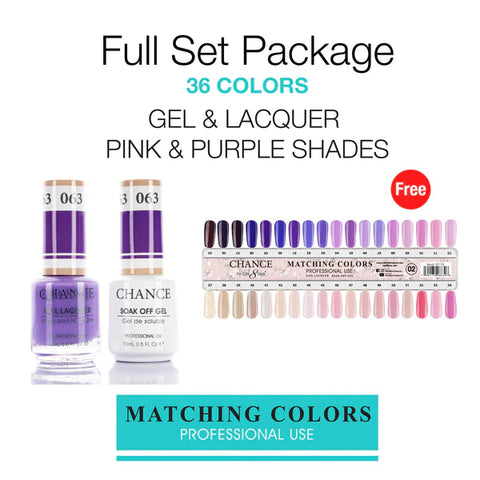 Chance by Cre8tion
Chance Matching Color Gel & Nail Lacquer 0.5oz - 36 Colors #037 - #072 - Pink & Purple Shades Collection w/ 2 set Color Chart
Product Details
Chance Matching Color Gel & Nail Lacquer 0.5oz - 36 Colors- Pink & Purple Shades Collection w/ 2 set Color Chart is a complete set of long-lasting pink and purple hues perfect for any occasion.
Product Highlights
Includes 36 colors in pink and purple shades for diverse options.

Features both the color gel and nail lacquer for maximum versatility.

Each bottle contains 0.5oz of product for long-lasting use.

Comes with two color charts for easy reference and selection.
Specification
36 colors of matching gel and nail lacquer in shades of pink and purple

Each bottle contains 0.5oz of product

It comes with two sets of color charts for easy reference

The gel formula provides long-lasting wear and a high-shine finish

Nail lacquer formula dries quickly and is easy to apply

Suitable for both professional and home use